Rack Brackets
What's the perfect way to move your scaffolding from job to job? How about bundles of 10 or 12 legs, all locked together so your forklift can handle them as one package? Load them on ANY flat-bed truck or trailer in minutes. When you get to the job, all you do is install the x-braces and put them at the wall!
No more disassembly between jobs!
Move scaffolding from one job to the next in ONE day!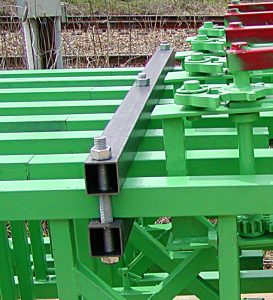 We construct our Rack Brackets from the same high-tensile steel we use to make our Heavy-Duty towers.
---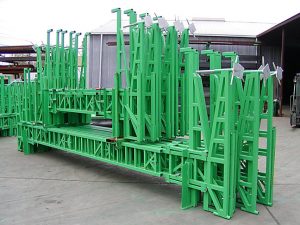 Both Heavy-Duty and Standard-Duty scaffolding can be racked together with the Rack Brackets. Each package is 4 feet wide. You can rack up 10 legs of H-D with winches, or 12 legs without winches. Most people leave the winches on between jobs.
---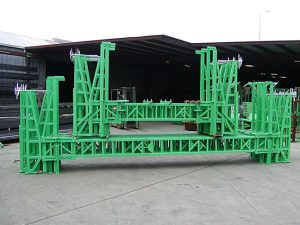 You can rack together just the base towers, or bases with extensions, whatever length works best for you. Even stack them up to save space. They're as easy to handle as a pallet of block.
---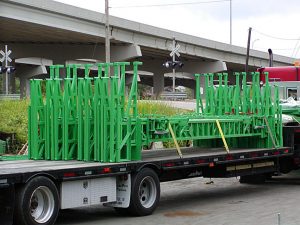 Two racks fit the width of a trailer. That's 20 legs with winches attached.
When you rack your towers, and put all the loose parts in a parts basket, moving from job to job becomes a pretty simple operation with a minimum amount of labor.
---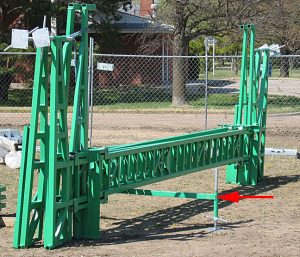 A simple leveling bar (red arrow) holds the towers up while you install the cross-braces.