Mast-Climbers: The most expensive button you'll ever push…
Keep The Extra $60,000 For Yourself!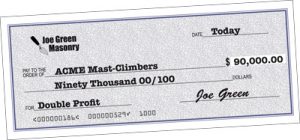 Just got that monster job so you're planning on shelling out $90,000 for a high-tech mast-climber? And why not? Mast-climbers keep your masons working waist-high all the time and easily double your profit.
---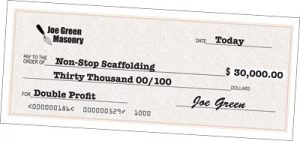 Non-Stop Scaffolding does exactly the same thing…for about $30,000. Not nearly the same thing…but EXACTLY THE SAME THING for $60,000 less.
---
Read What Our Customers Say:
"We've used mast-climbers on high work, but I can set Non-Stop anywhere I can drive a forklift. We use it everwhere." Sal Monarca; Middlefield, CT
"We own two mast-climbers, and we use them on straight walls 50 feet high, but my Non-Stop can go on every wall, on every job. We use it everywhere we can." Earl Woodfin; Southern Gen. Const.; Richmond, VA 804-355-7826
Plus, Non-Stop does 10 things that mast-climbers can NEVER DO…
1. You'll use Non-Stop on virtually every wall…regardless of size…on every job…every day. For $60,000 less. Non-Stop was designed by a mason contractor to replace conventional frames on EVERY wall on EVERY job.
2. Right out of the box, Non-Stop sets up on inside and outside corners, radius walls, insets, you name it… just as fast as straight walls. For only $30,000.
Non-Stop introduced the use of independent towers in 1975. They set up FAST. Since they don't have to be continuously cross-braced together, they can be set up to follow the face of any wall configuration, just as fast as straight walls.
3. Non-Stop is cost-effective starting on walls only 12 feet high! For $60,000 less. If you're building convenience stores, one-story schools, and the multitude of 20- to 24-foot walls out there, you'll use your Non-Stop every day. Because you no longer run all your walls scaffold-high, our customers tell us Non-Stop is cost-effective starting on 12-foot-high walls. Would you haul out mast-climbers to build 12-foot-high walls? And Non-Stop is approved to 552 feet high!
4. Non-Stop moves easily with any 4,000-pound forklift. For $60,000 less. No bent booms.
5. Non-Stop starts right on the ground (no more running scaffold-high). For $60,000 less. Never stop until you top out. Don't waste money needlessly stopping and starting.
6. Non-Stop requires virtually no maintenance. No gas engines, no hydraulics, no limit switches, no down time. For $60,000 less. It has no starter motors, spark plugs, solenoids, batteries, belts, hoses, valves, fluids, fluid filters, air filters, electronic control boards, wiring harnesses, etc. – the little things that shut your job down.
7. Non-Stop carries a lifetime warranty. If it breaks, we fix it free, including freight. For $60,000 less
8. Non-Stop doesn't require 18-wheelers. Carry 130+ feet with a 3/4-ton pickup and a gooseneck trailer. For $60,000 less.
9. Non-Stop will stay on your jobs…not in your yard. For $60,000 less.
10. Non-Stop works forever. It's beautifully low-tech. For $60,000 less.
Keep the $60,000 for yourself. Buy a new forklift, or maybe send your kids to college with it.
See a full comparison of Non-Stop and Mast-Climbers here.
NON-STOP USES THE SAME AMOUNT OF LABOR
Don't be confused by claims that mast-climbers use less labor on the scaffold. It takes the same amount of manpower to feed the masons on either system, but on Non-Stop you can land all the materials you want, wherever you want them. You never have to worry about overloading the scaffold or getting it out of balance.
"We crank for three and a half minutes and lay block for twenty minutes. It's easy for the tenders to keep up on either system, but on my Non-Stop I can land materials anywhere I want." Earl Woodfin; Southern Gen. Const.; Richmond, VA 804-355-7826
Some of our customers own both…
Monty Skinner of Skinner Masonry in Dallas: "On our 40-foot and under work, especially if there's ins and outs, we'll use our Non-Stop. On 40-foot and over, long straight walls, we'll tend to use our mast-climbers, but only if there's multiple moves to make it worth the initial setup."
So keep that $60k for yourself…
"Why do I want to spend three times as much money on scaffolding I can only use on half as many jobs?" Terry Emmons; Ft. Wayne, IN 219-492-8820