Maximize Your Scaffolding
With the Heavy Duty Bridge, you have the flexibility to stretch more lineal footage out of your scaffolding without the need for additional base towers, winches, extensions, x-braces, etc. They're also ideal when access must be allowed into a building or where ground-level obstructions prevent the placement of a tower.
The bridge costs less than a tower and cuts cranking in half.
Easy To Crank When Loaded
The Heavy Duty Bridge was designed from the ground up to be easy to raise with the existing winches on either end. Other systems that rely on a 21′ bridge have a history of being nearly impossible to crank while loaded. The video below will tell you all you need to know.
Though the Non-Stop Bridge is the length of three bays (21′ vs. 7′), for loading purposes, treat it as two bays, yielding a rated load capacity of 8,000 lbs.
Simple To Use and Move Wall To Wall
The Bridge System consists of three main parts: The wall-side truss, the labor-side truss, and the 2 platform brackets. Two men can put them together in minutes, and you can move them from wall to wall in one pick with a forklift and straps.
Easy To Transport
All the parts for one complete truss can be stacked on a pallet for easy transport from job to job.
The two trusses are made in two identical pieces, so they can break down as fast as you can loosen four bolts.
Adjustable
The Non-Stop bridge is adjustable from 13′-8″ to 21′-0″ long to fit most any wall length.
Very Easy To Install
Non-Stop vs Brand X
We get asked a lot about why our bridge isn't made like the diagram to the right, so it can bolt onto a single tower.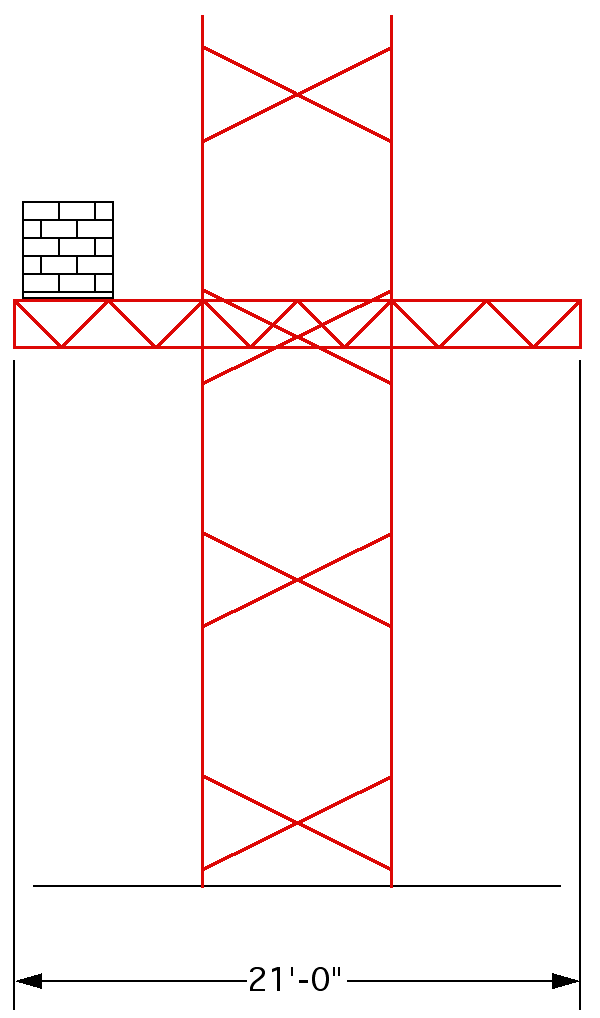 We get asked a lot about why our bridge isn't made like the diagram to the right.