Our Tried and True Wall Tie-In System
Our regular Wall Tie-In Bracket is an adjustable arm that hooks into a 3/8 eye-bolt and nut embedded deep in the masonry veneer. The Wall Tie-In Collar is adjustable along the arm and locks it to the tower. Our customers have always loved the simplicity of pointing only one small hole when they bring the scaffold down and unscrew the eye-bolt out of the wall, leaving the nut buried deep in the wall. The eye-bolt is used over and over again – you just need a new 4-cent nut. We know of zero instances where either the eye-bolt or the veneer has failed.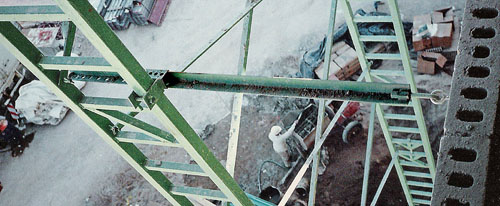 ADVANTAGES:
Just point up one small 3/8" hole. The nut is buried deep in the wall so there is no chance of rust stains.
Economical. Re-use the eyebolt and replace one 4-cent nut.
Does not compromise the integrity of the insulation or the vapor barrier.
You do not have to leave units out of the wall and patch them in later (they never match).